Community Planning: Making Planning Work
Making Planning Work
Casestudy 17
Bolivia
Partnering for more efficient
and affordable water supply
description
further information
This case shows how the importance of stakeholders' willingness and commitment to work together towards shared objectives is crucial in a partnership and that communication and transparency between the partners promote the sustainability of a partnership.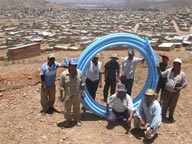 © Argua Tuya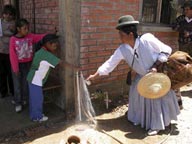 © Argua Tuya
The Agua para Todos (Water for All) initiative in Cochabamba, Bolivia describes how a municipal water company, a private consortium, local communities and a non-profit foundation, with support from the municipal authorities and the United Nations Development Programme (UNDP), have joined into an entrepreneurial partnership to extend residents' access to affordable water.
Locally-managed water supply systems are common in Bolivia, especially in rural and peri-urban areas. 54 per cent of water supply systems in the country are managed by committees, 25 per cent by cooperatives, 11 per cent by municipalities and the rest by other organizations, including private companies. Despite being acknowledged by national policies of decentralization and local government, locally-managed water supply systems do not fit neatly into national policies and plans for water and sanitation, especially at the peri-urban level.
In the suburban areas of Cochabamba, the municipal water company, SEMAPA, lacked the finance to build secondary water distribution networks, leaving hundreds of homes without a connection to the main water supply. In response, local communities organized themselves into water committees to initiate their own water provision systems. The Agua Tuya (Your Water) Programme, initiated by Plastioforte, a private manufacturing and distribution consortium, served the water committees but worked autonomously from the public water company. Despite the amount of activity in Cochabamba, attempts to improve water supply remained uncoordinated and inefficient and faced the risk of future stresses due to population growth.
The Agua para Todos initiative attempted to join actors in an innovative partnership model. The main idea was to overcome the lack of coordination and improve efficiency and to combine partners' resources to avoid the prohibitive costs of establishing new secondary water connections and reduce the cost of water for consumers. Within the Agua para Todos partnership, Agua Tuya constructed secondary water systems on behalf of the water committees while coordinating with SEMAPA, which planned where to direct its main water pipelines. The NGOs CIDRE and Pro Habitat Foundation provide a loan to each water committee to finance the cost of construction. Each system is meant to serve from 100–500 households with a single main water entry point. SEMAPA can connect its network to these points and sell water in bulk by contracting directly with the water committee rather than each household individually. This contributes to reducing the final cost of water for the users by creating aggregated demand.
In a year since March 2005, seven systems have been completed, benefiting over 5,000 people and cutting the unit cost of water by half. Indeed, once the municipal water supply connects this sub-network to its main pipeline, the cost will be further reduced to just one tenth of the original price per cubic meter. Future plans for the project aim to provide 17,000 connections serving 85,000 people within the next five years.
Important skills that underpinned the partnership's success were the coordination efforts from each partner organization and the willingness to make the most of the partnership synergies. Coordination was mostly bilateral as partners would approach each other separately on a needs basis. Although this approach worked reasonably well, it may become increasingly inefficient and time-consuming as the scale of the project increases. In addition, more institutionalized mechanisms will be needed to sustain a good level of communication and cooperation between partners.
Despite a lack of formal structures, a high degree of transparency was key to sustaining the partnership and keeping the different organizations motivated and receptive to solving project-related challenges together. Agua Tuya was seen as playing a lead role in this regard, for example, by setting up and moderating an on-line group where members could read and make comments about progress and/or any issues. The website and the drafting of the new activity plan left ample scope for discussion, preparation and then feedback and modification.
The active participation of the communities in the decision making, financing, implementation and administration of services generated strong local ownership. In all the systems, infrastructure was built with the participation of users, who, in most cases, contributed with labour and finances. This explains why residents consider themselves 'right holders' rather than users of their water systems, and feel entitled to make decisions about the management of their water provision. Moreover, the involvement of civil society in the project acted as a strong socio-political stabilizer in an area usually characterized by disorder and lack of coordination.
The partners' involvement in the partnership was also supported by training and capacity building activities. Both Agua Tuya/Plastioforte and Pro Habitat provided back-up support and guidance to community-management structures regarding the operation and administration of their systems. At least one person from every community was provided with on-the-job training as a plumber for system operation and maintenance during the construction process. This practical training during installation was then complemented by one month of training at the Plastioforte factory resulting in certification as a qualified plumber. Once the system is completed, the water committee is given some follow-up training and support.
Go back to case studies listing
Contacts:


Gustavo Heredia
DirectorPrograma Agua Tuya
Address:



Casilla 6264
Cochabamba
Bolivia
This special feature sponsored by the Department for International Development (DFID) and the Royal Town Planning Institute (RTPI)