Community Planning: Case studies: 001
Aylesham Masterplan
intro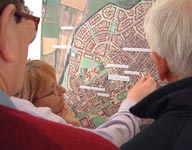 Exhibition of the Draft Masterplan
Aylesham 09.jpg
Nick Wates 2004
Theme
Masterplanning using Enquiry by Design
Location
Aylesham, Kent, UK (6 miles south east of Canterbury)
Project leader:
Aylesham Creating Quality Places Partnership
One of the most successful comprehensive examples of producing a Masterplan for a substantial urban extension with the full and creative involvement of key stakeholders including local residents. Very useful for anyone wishing to use the Enquiry by Design method or involve people in producing a Masterplan.
intro
The Process
key to colour coding
Intense community planning activity
Events, workshops, meetings, open house events, exhibitions.
Moderate community planning activity
Surveys, consultation periods.

Low level community planning activity
Preparation, revising documents, survey analysis, design work
Key points in community planning process
Formation of organizations or partnerships, launch of initiatives, project completion.
Other relevant events and activities
Local election, local plan adoption, tendering.
Nothing much happening
Waiting, breathing spaces
2002
Jan
Local plan adopted
Identifies Aylesham as a strategic location for expansion

Feb

Mar
Development partnership established
Authorities plus development agencies and academic intitutions
Apr
May

Jun
Materplanning team appointed
2002/
2003
Jul/
Feb
Background briefing prepared
Setting out context and constraints
2003
Jul/
Mar
Enquiry by design
Workshop 1
Tuesday, 25th March
Day 1 : Scene setting
Briefing - Aylesham context
Briefing - placemaking
Q & A session
Walking tours
Group discussion
Open evening
Wednesday, 26th March
Day 2: Exploring issues
Brainstorming and visioning
Constraints and Opportunities briefing
Group workshops and reporting back
Thursday, 27th March
Day 3 : Initial design concepts
Team working
Discussions with key stakeholders
Partnership briefing
Friday, 28th March
Day 4 : The emerging Masterplan
Producing drawings
Open evening - presentation,
Q & A
Apr/
May

Jun
Workshop with stakeholders
Financial and delivery assessment, refining the masterplan, preferred strategic framework
Jun
Enquiry by design
Workshop 2
Presentation of progress
Open discussion
Group workshops on key themes
Presentation on design codes
Group workshop on design code aspects
Open evening with exhibition (50)
Aug

Sep
Draft Masterplan presentation at public meetings
On outstanding issues. Mark out location of house around open space
2003/
2004 Oct/
Jan

2004
Feb
Independent public consultation team appointed
Mar/
Apr
Public consultation on Draft Masterplan
Draft masterplan circulated to every household with summary and questionnaire
Staffed exhibition
Face-to-face interviews
Statutory consultees

May/
Jun Masterplan revised


JulConsideration of Masterplan by authorities
Identifies Aylesham as a strategic location for expansion
JulFormal adoption of Masterplan as SPG
Identifies Aylesham as a strategic location for expansion
context
Context
Masterplan prepared by Sir Patrick Abercrombie in 1928 for a town with population of 15,000, but due to recession in the 1930s, the original vision was not realized. Only 1,760 homes built housing 4,200 residents.
Local Snowdown Colliery (1mile to south) closed in 1986 and since then the village has declined.
Village identified as a strategic opportunity in Kent County Council Structure Plan 1996 and Dover District Local Plan 2002.
Partnership formed by regeneration agencies and local authorities to seize initiative and create something of quality.
outcomes
Outcomes
-
Good use of the Enquiry by Design method to engage stakeholders and facilitate creative collaborative working. The process broke down people's suspicion that new development would be poor quality because of previous experience during the 1970s, 80s and 90s. It helped bring about a change in mood; from people seeing development as something that was being foisted upon them to an understanding that it was a way of bringing great benefits to the village which will enable it to take its proper place as a rural centre.


Good partnership working and project management.


Creative and robust public consultation process. In particular the face-to-face sample interviews were a valuable complement to the self completion questionnaire and open house exhibition as they gave statistical endorsement to the results. They also identified that the reason for a low level of self-completion returns was because of broad agreement with the proposals.


Very considerable public support for the end results. The vast majority of Aylesham residents (83%) supported the plans for village development overall.


Good documentation of the process throughout. (See Documents section)


Relatively rapid but not rushed timescale.


Good communication and use of IT.


Outcomes
- Shortcomings
Loss of momentum after consultation process.
Tab
Funding and resources
Funding for masterplanning process and consultation: English Partnership, South East England Development Agency (SEEDA) and Dover District Council.


Other partners provided staff resources.


Development to be financed by private sector.
Tab

Face-to-face interview back up

In the public consultation on the Draft Masterplan it was decided to conduct face-to-face interviews with a representative sample of residents to supplement the self-completion, postal questionnaires and test whether they provided a representative view. Although the results were not dramatically different, there were subtle differences between the face-to-face and postal responses. More importantly the process proved to be very useful in giving decision makers confidence to act on the results. It also provided the opportunity to ask people about their reaction to the postal questionnaires. See 'Aylesham Masterplan Survey Results, Accent, June 2004' in the Documents section for further details.



Tab

Documents available in date order. Please click on the image or information below it to download and display pdfs





Tab
Quotes
"The future of the village is something to look forward to."
Male, 65+
"What a wonderful and exciting plan for Aylesham, especially the housing on the open spaces. I strongly support the plan."
Male, 35-49
Tab
Reviews
"The Enquiry by Design process changed the way that some local people viewed the village and the issues. It brought forward proposals that are not in the Local Plan. This made for contentious but better proposals."
Mike Ebbs, Forward Planning Manager, Dover District Council, email to Site Editor, 16 May 2006