Community Planning: Methods
Design assistance team
Assistance teams comprise a number of specialists from a variety of relevant disciplines who visit an area and take part in a participation process (for instance, a planning weekend). They are particularly useful for providing a fresh and independent viewpoint.
Assistance teams are invited in by local people or agencies and provided with a brief. This may be simply to listen and advise, or to act as facilitators.
Teams will normally be multidisciplinary and be led by a team chairperson.
Team members are often paid expenses only, to ensure independence. If they are paid a fee, this needs to be made clear.
The team will usually prepare a report with their recommendations before leaving.
Photocredits
Duke Street, Liverpool, UK, 1997, Nick Wates.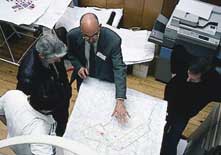 Independent expertise
Team members discuss options with a local landowner.
Tips
Good briefing beforehand is essential; on both content and process.


Strong leadership is vital to keep events moving forward. Give team members roles to focus people's energy.


Get each team member to supply quotes (soundbites) and recommendations to standard bullet point format, in 3 categories: Background; issues; recommendations (to make sure they listen and provide evidence of their contribution).


Ensure that team members commit themselves to attending for the whole event.
Costs
Main costs for team: Travel; accommodation; meals; film; equipment and supplies.
Team synthesis process

Sample process for drawing up proposals after public workshops or planning day.
Roles and responsibilities meeting
Team only. Determine tasks, report structure and division of roles.
Individual team working
All workshops analysed to standard format summarising points made and identifying key themes. Proposals drawn up to standard format (heading plus one summary paragraph).
Team participatory editing
Text and graphics displayed on wall for comment
(using pens and Post-its).
General participatory editing
Non team members return (eg local enthusiasts) to make comments.
Review session
Open workshop session to discuss any major omissions or controversial issues.
Final editing and production
Team only

Total running time: 1 day
Team members' luggage checklist
Camera

Clothes with lots of pockets for camera, notebook, pens, etc.
Favourite drawing pens
Material for special presentation if required
Pocket notebook
Useful general facts and figures or illustrative material likely to be relevant
...........................
...........................
Assistance team roles checklist
For large action planning events where the team is facilitating and preparing a report. Several compatible roles may be taken by one individual. Not all roles will be needed in every event. Customise.

Contacts person
Keep names and phone numbers of useful resource people.
Diplomats
Liaise between different workshops to create linkages.
Follow-up co-ordinator
Ensure follow-up takes place and publicise.
Photographer
Ensure key events are photographed (slides and prints).
Report editor
Commission, gather and edit copy and illustrations.
Report subeditor
Subedit copy. Assist editor.
Report production manager
Liaise with printer and photo lab.
Presentation editor
Select images for presentation.
Sound recorder
Record key sessions and index.
Stage manager
Co-ordinate pool of people for errands etc.
Team chairperson
Provide leadership, orchestrate event, take responsibility.
Team facilitator
Keep roving eye on group dynamics, reporting back to team chairperson.
Workshop facilitators
Steer workshop sessions (one per workshop).
Workshop note-takers
Prepare notes of workshops in format for final report.
...........................
Expertise needed on design assistance team
checklist
Checklist of skills and professional backgrounds likely to be useful. Customise for each event.
Architecture
Community development
Ecology
Economics and finance
Historic preservation
Journalism
Landscape design
Law
Management
Planning
Property development
Sociology
Urban design
...........................
...........................

It helps if people are also good at writing, drawing, organising, analysing and working as a team
Inspiration
"We owe thanks to all our 'outsiders'. They were so friendly from the start. It was like one big happy family."
Local resident, Ore Valley Action Planning Weekend, 1997.
Thanks: