Community Planning: Methods
Have your say event
description
more detail
more pictures
Have your say events provide an opportunity for people to explore ideas on an issue or place and make their views known in an informal setting. Also described as Speak Outs or Community Planning Workshops, they are a useful early step in any planning activity.
A convenient venue and time is selected, usually in a familiar local community facility, often as part of a larger community event.
A range of interactive displays and activities is prepared to stimulate ideas and obtain feedback.
The event is widely advertised and people are invited to drop in at any time during the scheduled opening hours.
Results are written up and circulated to all who attended and made available on the internet.
Photocredits
top: Shipley, Yorkshire, UK, 2012, Nick Wates
bottom: Illustration: Bexhill Local Action Plan, East Sussex, UK, 2009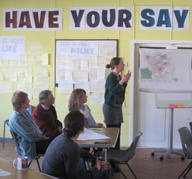 Wall says it all
Participants review material that has built up on the wall during the day.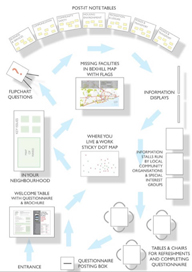 Event layout
An example event layout in a community hall. (click on image for larger view)
Tips
The same event can be repeated in different places, for instance different neighbourhoods in the same town. Make display material and signage portable.


Encourage build up to the event by circulating a newsletter and perhaps a questionnaire.


Allow plenty of time to set up and do a practice run.


Worth having the event set up so that everything is visually self-explanatory. Facilitators are likely to get tied up in lengthy conversations.


Be prepared to hold an impromptu workshop session if there is a critical mass of participants who want to debate.
Costs
Main costs: venue hire, display material, refreshments, recording and disseminating results.
Sample poster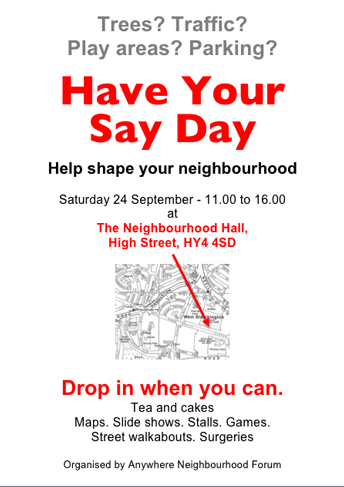 Sample A board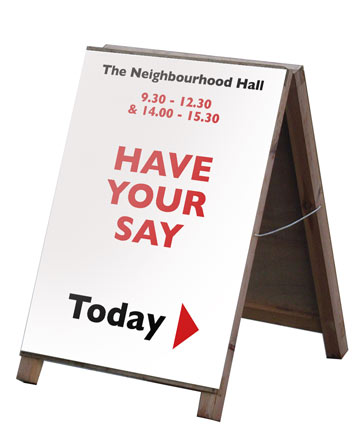 Display and activity options checklist
Children's corner
Give parents a break.


Decision Board
Vote on priorities using sticky dots.


Flipchart
Respond to questions such as 'What I can do to help'. An alternative to post-it boards.


Mapping
Identify things on maps and plans (missing facilities, resources, likes, dislikes, ideas for improvement, etc)


Opportunities
Display or slide show with images from elsewhere.
Download example pdf here.


Post it boards
Seek views on a range of topics (eg leisure, travel, facilities, likes, dislikes, ideas for improvement, etc)


Refreshments
Tables for people to eat, drink, chat and complete questionnaires.


Stalls
By local organisations showing what they can offer.


Surgery desks
One to one conversations with local officials, councillors, professionals, specialists.


Walkabouts
To look at local issues and features.


Welcome desk
Information, survey forms, stickers, leaflets.


Where do you live and work?
Put a sticky dot on the map (helps people orientate themselves, good icebreaker)
Inspiration
"I think the 'Have your say' is an excellent concept and it has stimulated me to take up the cudgels "
Jim Milne, Collington, blog, 28 October 2009.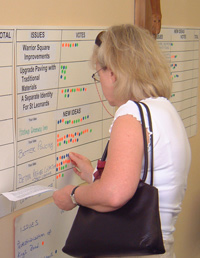 Decision board
Participant votes for her priorities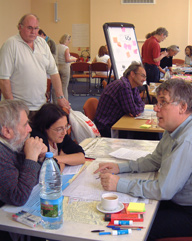 Surgery
Residents explore ideas with a landscape architect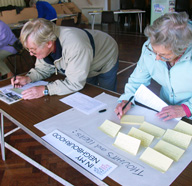 Post-it boards
Reading responses by others and adding your own.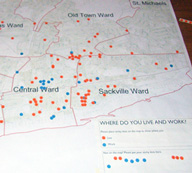 Sticky dots map
Participants identify on the map where they live and work.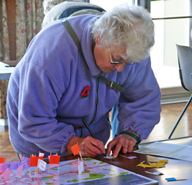 Map with flags
Adding missing facilities on a map using coloured flags made from cocktail sticks.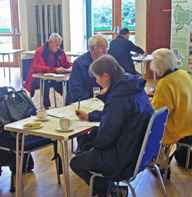 Tea break
Completing a questionnaire with the help of refreshments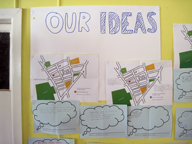 Ideas wall
Wall display of maps and ideas sheets distributed to all local residents before the event.
Photocredits:
1-2 St Leonards-on-sea, E. Sussex, UK, 2003
3-6 Bexhill, E. Sussex, UK, 2009
7-8 Shipley, Yorkshire, UK, 2012

All photographs: Nick Wates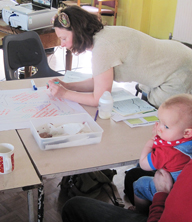 Baby minding
Marking up ideas on big plan using marker pens.
Thanks: Paul Barrett, The Kirkgate Centre, Shipley and Ian Coleman, Rother Voluntary Action. Funded by Shelter courtesy of British Land and Nick Wates Associates.