Community planning: Scenarios
Disaster management
description
scenario timeline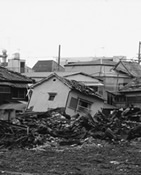 This scenario applies particularly to communities facing the threat of natural or human-made disasters such as floods, earthquakes, wind storms and industrial accidents.
Disasters tend to happen to people at risk. They are at risk because they are vulnerable to hazards. This vulnerability can best be reduced by increasing people's capacity to deal with a range of social, cultural, economic and physical factors.
The key to successful disaster management is ensuring that victims and potential victims are involved. Much formal disaster management does not do this and is often unsustainable, costly and ineffective.
Participatory community-level disaster management involves a cross-section of people and interests in researching, planning and implementing projects. Because the projects are developed for and by local people, there is more interest, understanding and success in reducing suffering and losses.
The key principles of this approach are:
Communities themselves are best placed to prioritise threats and take effective risk reducing actions.

The best time to reduce the impact of disasters is before the next disaster occurs.
The identification of hazards and who and what may be affected by them is necessary before risk reduction plans can be made.
Progress has to be well publicised to maintain interest and strengthen the culture of disaster reduction.
Photocredits
Kobe, Japan, 1995, Nick Wates.
Thanks: Roger Bellers, Nick Hall. Based in part on Project Impact programme run by FEMA, USA